THE POWER OF CONSCIOUS SLEEP
25 Hr. Online Yoga Nidra Meditation Teacher Training Certification Course
Learn To Guide Yoga Nidra Meditation And How To Use This Powerful Therapeutic Tool for Self-Healing, Personal Transformation & Awakening
The Power of Conscious Sleep is a 25 hr. professional certification course that will teach you how to lead 10 unique Yoga Nidra practices with confidence and skill in as little as 2 weeks.
With a strong focus on gaining practical experience and exploring the profound impact this technique has on the body/mind, this remarkable course will empower you to teach a simple meditation technique that is easy and accessible to all. 
If you are a yoga teacher, life coach, therapist, healer, body worker, nurse, wellness practitioner, social worker, psychotherapist, school teacher or simply want to deepen your own personal practice, this Yoga Alliance accredited course offers you one of the most exceptional yoga nidra trainings in the world.
In this course you will gain the expert training you need to awaken your own highest potential & expand your teaching skills so you may help guide others on their journey towards inner peace, balance and happiness.
Learn to Lead Yoga Nidra Classes & Workshops
Learn to guide a powerful meditation technique that will expand your yoga teaching skills and empower you to help heal and transform the lives of others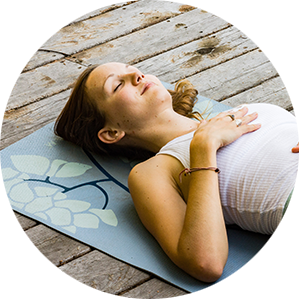 Rejuvenate At Home During This Self-Healing Retreat
Practice the sacred art of yoga nidra daily during this immersion course & experience how this powerful therapeutic tool heals the body, reduces stress & improves mental health before beginning to teach it to others
Connect With An Inspiring Community of Yoga Teachers
Join an expanding community of like-minded souls on a journey of self-discovery and connect with inspiring yoga teachers from around the world, as they share their knowledge and expertise
An Established Global Leader in Yoga Training for over 10 years
This Blooming Lotus Yoga 25 hr. Online Certification Course is Internationally Recognized and Yoga Alliance Accredited
Winner of a "Yoga School of The Year" Award  from UK based Travel & Hospitality Awards
Hundreds of Amazing Students Who Now Teach in Over 30 Countries
Over 230 5-Star Reviews on Yoga Alliance, TripAdvisor & Google
Course Overview
Practicing Yoga Nidra is very easy, but teaching it effectively can be challenging, complex, and confusing….
Though this ancient meditative technique has been taught for thousands of years, it is surrounded in mysticism and few reliable resources are available that explain it in a clear and concise way.  As such, this course has been created to help you develop insight into the essential principles of the physiological, psychological and philosophical foundations of Yoga Nidra and its practical applications in the modern world in a simple and easy to understand way.
By completing the course, you will develop a comprehensive understanding of both the theoretical aspects of this sacred science, as well as the art of teaching it effectively to others.  You will learn a way of guiding yourself and others into a state of higher consciousness – where deep, therapeutic rest, spacious awareness and Presence can be directly experienced. This course will equip you with the professional skills you need to guide this transformative and healing practice in your own voice, and be able to help distinguish yourself from tens of thousands of other yoga teachers, who have yet to learn this profound technique and apply it in their classes. 
The Power of Conscious Sleep:
An Evolutionary 25hr  Yoga Nidra Meditation Teacher Training Course
This course offers an exceptionally unique way to learn and teach an integral system of yoga nidra that purifies the body, enlightens the mind and awakens the soul.  You will learn how in the beginning stages, Yoga Nidra relaxes, heals, and releases negative thoughts, self-limiting beliefs and destructive habits. How in the intermediate stages it encourages heightened awareness, clarity and insight.  And at its most profound, advanced stages awakens you to the True Self and can give the experience of the fourth dimension – what yogis call Turiya, the state of enlightenment. 
This holistic, immersive, step-by-step training course is composed of 8 modules, that can be completed in as little as 2 weeks, and can allow you to teach yoga nidra immediately upon certification.  Each Module includes in-depth video lessons  explaining the theory and practical application of yoga nidra, homework assignments that allow you practice and integrate the many benefits of yoga nidra directly, as well as  practicum assignments to help you develop the skills of teaching yoga nidra to others.
The core of the course is composed of the 10 meditation practices found in "The Complete Yoga Nidra Collection," which you will learn how to teach.  These 10 practices range in duration from 16 – 42 minutes and will give you a wide variety of options when teaching beginners or intermediate classes.  You will be given the mp3's and transcripts of each of these 10 practices and will be taught step-by-step how to utilize the "9 stages of yoga nidra" in each practice, as well as develop the practical skills to guide others through these practices in your own voice, with eloquence and grace.    
The Course is Composed of 3 Central Themes:
Theory, Personal Experience & Developing Teaching Skills.
In the theory and application video lessons, you will learn:
How to apply yoga nidra to conditions such as: Stress, Habits and Addictions, Trauma and PTSD, Depression, Anxiety and Insomnia
9 Stages of Yoga Nidra: Preparation, Guided Meditation, Sankalpa, Body Scanning, Subtle Energy Awareness, Breath Awareness, Equanimity, Visualization & Re-Emergence
The Neuroscience of Yoga Nidra and modern scientific research verifying the benefits and the influence yoga nidra has on brainwaves and the nervous system
The yogic perspective on Waking, Dreams, Deep Sleep, and Enlightenment
How to adapt Yoga Nidra for children & special populations
In the personal experience homework lessons, you will learn:
How to practice Yoga Nidra correctly, what to expect, and how to get the most out of your practice
How to work with Intention or Sankalpa to embody your best self, let go of limiting habits or addictions, to accomplish your goals in life, and to fulfill your life's purpose
How to unlock the storehouse of your creative genius, gain deeper insight, and develop clarity into your life's purpose
How to decode the symbolic content of the visualizations utilized in Yoga Nidra that trigger the release of deep-seated conditioning patterns (samskaras) 
How to grasp the deeper significance of the practice by understanding the methodology of each of the 9 stages of Yoga Nidra
In the teaching skills practicum assignments, you will learn:
A step-by-step process on how to set up and structure a Yoga Nidra class. Including how to introduce Yoga Nidra to beginners, preparations for the practice, and essential tips you need to conduct a successful class
How to integrate yoga nidra into yoga classes as an alternative to Shavasana
How to adapt the practice for individual needs and how to lead groups
How to connect to your spiritual heart and find your teaching voice
Outlines for structuring your own standalone Yoga Nidra Workshops
TEACHING TECHNIQUE
How to deal with and answer students' questions at the end of classes
How to avoid and remedy any obstacles while teaching Yoga Nidra
The difference between Yoga Nidra, hypnosis, and various relaxation techniques

How to manage emotional reactions to the practice
YOGIC WISDOM
The ancient origins of Yoga Nidra and how its efficacy allowed it to stand the test of time

The 7 states of consciousness and how they apply to Yoga Nidra practice

Fundamental principles of mantra, yantra and mandala
How Yoga Nidra is used as a Pratyahara technique in the 8-limbed yoga
THE FUN STUFF
How to integrate yoga nidra into your own yoga retreats
How to manifest your desires through the power of sankalpa
How Yoga Nidra purifies the chakras
Asanas that can enhance Yoga Nidra and make the practice easier
ADVANCED TOPICS
How to integrate the yogic and scientific/psychological perspective on deep, therapeutic rest
Yoga Nidra as a pathway to Samadhi
Yoga Nidra within the context of Tantra
Techniques to holistically integrate unhealthy emotions and address unresolved experiences
Become a
Certified Yoga Nidra Meditation Teacher 

to Gain the 

Confidence and Skills

 You Need To

Deepen Your Practice

 & 

Expand Your Teaching Skills 

…
Learn How to Guide 10 Complete And Holistic Meditation Practices So you Can Become An Exceptionally Well-Rounded Teacher
Awaken Your Highest Potential With Immersive Training & Advanced Mind/Body Strategies For Developing Inner Peace & Radiant Health
Develop Essential Skills To Reach A Wider Audience And Help Your Students, Clients Or Patients Heal Their Bodies, Find Inner Peace Through Deep-Therapeutic Rest And Awaken To Their Best Self
Complete 25-Hrs Online Course (and Growing!)
8 Modules And 55 Video Lessons With Supplementary Powerpoint Slide Deck Pdfs
10 Transcripts For Leading Your Own Yoga Nidra Classes
The 10 MP3s Of "The Yoga Nidra Collection" For Self-Healing & Personal Growth
Access To Our Private Facebook Group For Direct Access To Lily And Community Support
Homework And Practicum Assignments To Develop Your Teaching Skills
4 Live Zoom Classes With Lily Every 2 Weeks (Thursdays In Oct/Nov) For Advanced Specialty Topics And Q&A - With Replays If You Miss The Live Events
Yoga Alliance Members: We Are An "Yoga Alliance Continuing Education Provider" And This Online Course Can Be Used To Meet 25 Hrs. Of Continual Education Requirements.
Payment plans are available. Contact us for more details.
BECOMING CERTIFIED IS SIMPLE & EASY
ENROLL FOR THE COURSE TO Receive ACCESS DETAILS With Your Username & Password
WATCH the online training on any device whenever you wish, OR DOWNLOAD THE ENTIRE COURSE AND STUDY OFFLINE
COMPLETE THE COURSE AND RECEIVE YOUR CERTIFICATE VIA EMAIL
We're so confident in the value of this online course and wish to have it reach as many people as possible that we even offer a 60 Day Money Back Guarantee.  If for any reason you do not enjoy the course just contact us and we will give you a no-questions-asked refund.
Amazing Bonuses, Perks & Post Graduation Support
Bonus Module 9: Yoga Nidra For Children
New video lessons on how to guide yoga nidra for children, with 2 extra transcripts and MP3s. To be released in Nov. 2020.
Priority Admission To Our Bi-Annual 7-Day Silent Meditation Retreats In Bali (Limited Spaces)
Yes, you read that right! We understand that learning yoga is a life-long journey and to provide all students the support they deserve, we allow all certified students to attend our live meditations retreats for free in order that they may continue to evolve as a teacher.
Exclusive Discounts On Other Educational Vidya Resources
Receive discounts on our expansive online "Vidya" collection of continuing education resources which includes online specialty courses, inspiring audio recordings and in-depth books. 
10% Discount On All Blooming Lotus Yoga Retreats In Bali!
If you've ever dreamt of taking a yoga retreat in Bali, we offer yoga retreats that start nearly every Sunday. Get a 10% discount on all yoga retreats at our world-class yoga resort, with its own spa, vegan restaurant, transportation services and exceptional teachers.
Become a
Certified Yoga Nidra Meditation Teacher 

to Gain the 

Confidence and Skills

 You Need To

Deepen Your Practice

 & 

Expand Your Teaching Skills 

…
Learn How to Guide 10 Complete And Holistic Meditation Practices So you Can Become An Exceptionally Well-Rounded Teacher
Awaken Your Highest Potential With Immersive Training & Advanced Mind/Body Strategies For Developing Inner Peace & Radiant Health
Develop Essential Skills To Reach A Wider Audience And Help Your Students, Clients Or Patients Heal Their Bodies, Find Inner Peace Through Deep-Therapeutic Rest And Awaken To Their Best Self
Frequently Asked Questions
How long will this course take to complete?
Most students can complete the course in about 2 weeks, dedicating about 1.5 – 2 hours per day.  If you are very motivated, you can even finish it and become certified in under 1 week. However, if you have a busy schedule you can finish the course at a more leisurely pace and it may take you 4 weeks or longer.
What are the pre-requisites?
This course is open to all. Anyone can undertake this training if they have an open mind, willingness to learn, and a desire to apply what is taught to benefit others.  This course is not limited to yoga or meditation teachers and no previous experience teaching or guiding yoga or meditation is required.
Can I really join a meditation retreat for free, after this course?
Absolutely! Yoga is a continual journey of self-discovery and growth. After you graduate, we welcome you to join us in Bali for our intensive silent meditation retreats, that we hold twice yearly.  We are here to support, mentor and offer you guidance both online and in-person during our live events.  You can learn more about these silent meditation retreats here.
What are my payment options?
We accept secure online payments via credit/debit card or Paypal.  Please contact us if you cannot pay all at once and need to arrange a payment plan.
Is this course mostly theoretical or more practical?
It is a combination of both.  About 50% of the course is theory, which will give you a solid foundation in understanding the essence of Yoga Nidra, and 50% is homework and practicums.  The practicums are "practice teaching sessions" that can be done with a friend or family member, as a way to apply what you have learned and develop confidence in guiding safe, effective and compassionate Yoga Nidra sessions.
How can I contact the teacher if I have questions or something I'd like to share?
Upon registration, you will gain access to the members portal and find a Questions and Answers page dedicated to supporting you in your learning.  You will be able to connect to Lily or one of her personal assistants, via email, our private Facebook Group, and during live Zoom classes.
What is your refund policy?
We offer a 60-day, no-questions-asked, refund.  If for any reason you do not enjoy the course, simply send us an email and we will issue a full refund.